From a shoot last summer, a lovely layout in the latest issue of SAGA Magazine, illustrating the work of rose grower, Rosebie Morton. Some out-takes too, as there is never enough room for all the shots taken for a feature.
From a shoot on business women in You Magazine on 16th August 2015. On a large feature, several thousand shots often need editing down to half a dozen or so. This means overlooking many equally good images. So, a small selection of out-takes.  The first, a quick shot as I was packing my kit away.
Two more from the same series:
A revisit to the WC Garden @Vanguard Court Chelsea Fringe project  in 2014 for its relaunch as Anna Rose Hughes' studio.
An unexpected visitor at the Chelsea Flower Show in 2010…. John Cooper Clarke, who made an appearence at the Tom Hoblyn show garden. I so, so, so wanted him to do this. But he didn't.
From the archives….taken for Top Gear around 1998. Astronaut Buzz Aldrin with a Jaguar XJ220 at Bruntingthorpe Proving Ground in Leicestershire. And a most fortuitously placed vapour trail.
Some more recent additions to the Coast of Light series, from Andalucia. This is an edit from a set taken in August 2013.
One from the archives…..Bruce Reynolds,  the mastermind behind the Great Train Robbery. I came across this shoot this afternoon whilst sorting through a couple of old negative files. From 1997, I can't remember the name of the magazine it was originally shot for. Bizarrely it went into liquidation before publication, and I had to retrieve all the film from a lock-up in North London…the only assets of the magazine I was entitled to claim back. HM Customs and Excise always have first pickings before the small folk. The story eventually appeared in The Telegraph, probably in 1998.
Taken under bridge 127, or Bridego Bridge, near Mentmore, Buckinghamshire, it is where the robbery actually took place in the early hours of 8th August, 1963.  After the shoot, we drove along the escape route to the farm hideaway, near Brill, also in Buckinghamshire. The use of this particular Jaguar in the story was always tenuous…apart from the fact that the old classic Jag MKII was a favourite car of both good and bad in the 1960's!
Reynolds said during the course of the interview, that one of the robbers was never arrested for the crime, and that he would take the secret of the name to his grave. As he died in 2013, he appears to have upheld this promise.
Thanks to British Airways overbooking my homeward bound flight this summer, I had an extra day's holiday in Gibraltar at their expense, which was jolly nice of them. This gave me the opportunity for a bit of sight-seeing and exploring. I have been once before, but here is a gallery of the latest images. (Click on thumbnails to bring up full size gallery).
Yesterday I recieved an email regarding a post I wrote last May, about a mummy interred at the church of St James Garlickhythe, in the City of London. Referred to as 'Old Jimmy Garlick', no one knows who he really is. As a student in 1982, I took a photograph of this poor fellow.
I wasn't sure what happened to the body after my visit, but apparently sometime afterwards, he was placed into a modern casket with a bit more dignity than a glass fronted case. This was kept in the bell tower. Unfortunately due to new bell ropes being installed after the recent Diamond Jubilee, Jimmy needed to be moved again, hence the email. No recent photograph was available to include in a history of the church.
I'm glad he now appears to have a permanent resting place. As said in the previous post, he was stored in the crypt in 1982, and was an unwelcome spectator of  builders working beneath the church. They moved him into a dark corner, face to the wall, so he couldn't watch them!. I was asked to move him back to a position that was more suitable for a mummy – ie not damp! Moving dead bodies around is an odd thing, but strangely, there was absolutely nothing spooky about this at all. In fact 'Old Jimmy', close up,  almost had a smile as he wobbled in an undignified manner, whilst I dragged the casket bit by bit into the middle of the crypt!.
Thanks to John Sutton from St James Garlickhythe, for the photograph, and for the new information.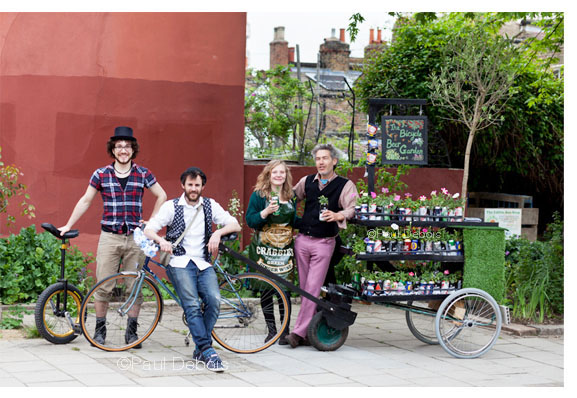 A gallery of photographs from my tour of Chelsea Fringe Gardens. The Fringe, in its inaugural year, is a new garden festival, directed journalist and author, Tim Richardson.
From their website :
"The Chelsea Fringe festival is a brand new initiative, entirely volunteer-run in its first year. It's all about harnessing and spreading some of the excitement and energy that fizzes around gardens and gardening. The idea is to give people the freedom and opportunity to express themselves through the medium of plants and gardens, to open up possibilities and to allow full participation.  Entirely independent of the RHS Chelsea Flower Show (though acting with its support), the Fringe will explode out of the showground geographically, demographically and conceptually. It will range from grassroots community garden projects to avant-garde art installations. Our open-access principle means that just about anything goes – as long as it's interesting and on the subject of gardens, flowers, veg-growing or landscape".
Tony Heywood & Alison Condie's underground landscape installation