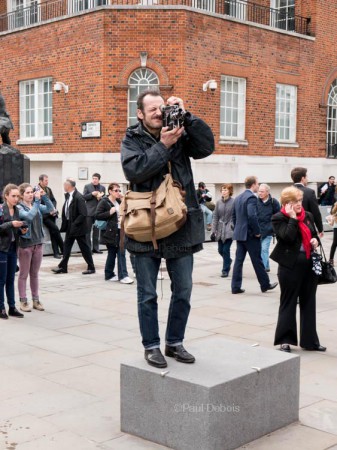 Commemorating a dying art – a statue of a cinematographer near St Paul's Cathedral, surrounded by the crowds at Margaret Thatcher's funeral. 17.4.13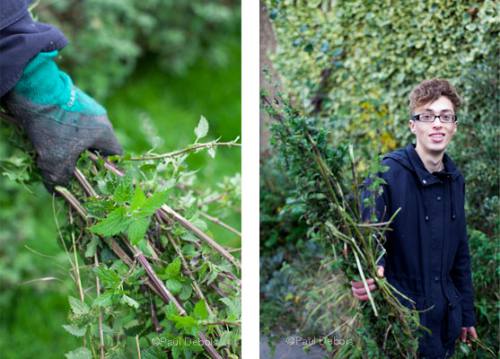 More foraging and harvesting wild food today, with Abundance London at Dukes Meadows, Chiswick…….though I arrived a bit late for the event, and missed looking for nettle leaves, mallow and rose hips, so lunch went missing. Making nettle string had to suffice! Sam Sender is an expert forager from Transition Heathrow.
Yesterday I recieved an email regarding a post I wrote last May, about a mummy interred at the church of St James Garlickhythe, in the City of London. Referred to as 'Old Jimmy Garlick', no one knows who he really is. As a student in 1982, I took a photograph of this poor fellow.
I wasn't sure what happened to the body after my visit, but apparently sometime afterwards, he was placed into a modern casket with a bit more dignity than a glass fronted case. This was kept in the bell tower. Unfortunately due to new bell ropes being installed after the recent Diamond Jubilee, Jimmy needed to be moved again, hence the email. No recent photograph was available to include in a history of the church.
I'm glad he now appears to have a permanent resting place. As said in the previous post, he was stored in the crypt in 1982, and was an unwelcome spectator of  builders working beneath the church. They moved him into a dark corner, face to the wall, so he couldn't watch them!. I was asked to move him back to a position that was more suitable for a mummy – ie not damp! Moving dead bodies around is an odd thing, but strangely, there was absolutely nothing spooky about this at all. In fact 'Old Jimmy', close up,  almost had a smile as he wobbled in an undignified manner, whilst I dragged the casket bit by bit into the middle of the crypt!.
Thanks to John Sutton from St James Garlickhythe, for the photograph, and for the new information.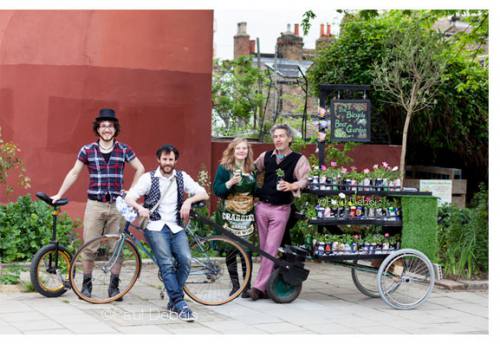 A gallery of photographs from my tour of Chelsea Fringe Gardens. The Fringe, in its inaugural year, is a new garden festival, directed journalist and author, Tim Richardson.
From their website :
"The Chelsea Fringe festival is a brand new initiative, entirely volunteer-run in its first year. It's all about harnessing and spreading some of the excitement and energy that fizzes around gardens and gardening. The idea is to give people the freedom and opportunity to express themselves through the medium of plants and gardens, to open up possibilities and to allow full participation.  Entirely independent of the RHS Chelsea Flower Show (though acting with its support), the Fringe will explode out of the showground geographically, demographically and conceptually. It will range from grassroots community garden projects to avant-garde art installations. Our open-access principle means that just about anything goes – as long as it's interesting and on the subject of gardens, flowers, veg-growing or landscape".
Tony Heywood & Alison Condie's underground landscape installation 
In December 2008 I started a project which evolved into set of images called 43 Gardeners' Hands. This was exhibited at Kew through the summer of 2009. Four more photographs were taken just after the exhibition deadline, and as a result were never exhibited. So, clockwise from top left: Dan Hinckley, Tim Richardson, Rosemary Alexander and Will Giles.
A new portrait in the Land Girls series.
With the impending GMG event on Wednesday, I am putting up five more portraits from the Land Girls series this week. In no particular order, Maddy Harland, editor of Permaculture and advocate of greener living – Juliet Roberts, editor of Gardens Illustrated -  Lia Leendertz, journalist, author and blogger - Anne Wareham, AKA the Bad Tempered Gardener,  journalist and author –  Alys Fowler, presenter, journalist, author and advocate of greener living.
Two more portraits from the Land Girls series from autumn 2010 and summer 2011.
The restoration work at Fulham Palace.