From 1992, Jackie Stewart and Martin Brundle in their respective cars at Silverstone. Stewart in his 1973 F1 World Championship winning Elf Tyrrell and Brundle in the 1992 Benneton Ford. Looking like they were moving at quite a sedate pace, it's closer to 100mph, as these cars overheat very quickly at much less. Which always meant bruised ribs for the photographer…caused by the buffeting whilst hanging out of the camera car roof. I never worked out a way of preventing this.
The Safari Rally with Colin McRae and the Ford Rally Team for Top Gear, February 2000. Over the Rift Valley, Kenya, all teams used helicopters as a viewing platform to instruct their drivers and warn of obstacles in their path. One of the most memorable and scary shoots. Looking back at the other helicopters was a like viewing a scene from Mash, as they zig-zagged down the valley, rising and falling as the approached power cables. Many things were learnt here. The most important was never drink copious amounts of vodka the evening before a helicopter ride.
Sorting through old portfolio tearsheets this morning, I found this from July 1989. Car Magazine and a Porsche 911. One of my favourite car pics from that period, taken in Scotland, near Ullapool. And I still remember the car being driven over my foot.
It has dated, but it's interesting to see a photo used full frame, with few cover lines, no barcode…..and no free gift!
A Top Gear shoot from an early issue of the magazine in October 1997. Clarkson driving a Jaguar XJR…not fast. This was actually shot in his driveway, with the car doing about 5 mph and me walking beside the car with my trusty old Mamiya RB.
It's a while since I photographed a car show, but the 2014 Festival of the Unexcpetional appealed to my sense of humour.  Described as a Concours de l'Ordinaire with 'cars from the era that quality control forgot'…..Allegro's, Maxi's and Marina's to name a few. Plus their owners. So, a small gallery as a flavour.
For info about 2015, see: Festival-of-The-Unexceptional
From the archives….taken for Top Gear around 1998. Astronaut Buzz Aldrin with a Jaguar XJ220 at Bruntingthorpe Proving Ground in Leicestershire. And a most fortuitously placed vapour trail.
One from the archives…..Bruce Reynolds,  the mastermind behind the Great Train Robbery. I came across this shoot this afternoon whilst sorting through a couple of old negative files. From 1997, I can't remember the name of the magazine it was originally shot for. Bizarrely it went into liquidation before publication, and I had to retrieve all the film from a lock-up in North London…the only assets of the magazine I was entitled to claim back. HM Customs and Excise always have first pickings before the small folk. The story eventually appeared in The Telegraph, probably in 1998.
Taken under bridge 127, or Bridego Bridge, near Mentmore, Buckinghamshire, it is where the robbery actually took place in the early hours of 8th August, 1963.  After the shoot, we drove along the escape route to the farm hideaway, near Brill, also in Buckinghamshire. The use of this particular Jaguar in the story was always tenuous…apart from the fact that the old classic Jag MKII was a favourite car of both good and bad in the 1960's!
Reynolds said during the course of the interview, that one of the robbers was never arrested for the crime, and that he would take the secret of the name to his grave. As he died in 2013, he appears to have upheld this promise.
As I spent many years chasing rainbows, sunsets, moonrises or any kind of moody excitement happening in the sky whilst on car shoots, I acquired the knickname 'The Prince of Darkness'. A couple of jornalists in particular knew that if they came out with me, they would always miss their tea. Sorry guys!. Old habits die hard. But here are some shots for you, without tin boxes!.
I found these photographs whilst searching for something else this afternoon. Taken a couple of years ago, they illustrate the spectacular cloud formations that can occur at certain times of the year on the Alantic Coastline, near Cape Trafalgar.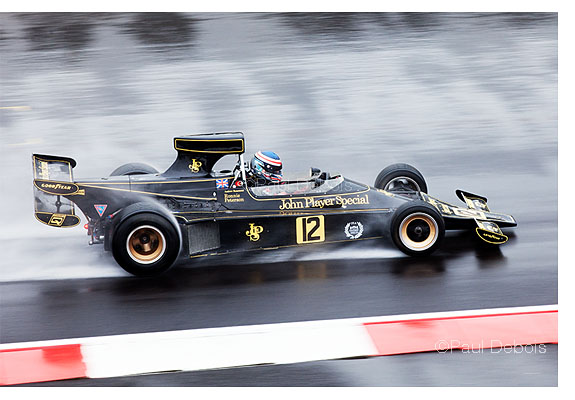 The last Grand Prix I photographed was the US GP at Indianapolis in 2003. So when I visited Silverstone last weekend, I was a bit rusty to say the least. One thing I had forgotten though, was the need to wear ear plugs. My ears haven't rung so much since standing too close to the P.A. system at a Who concert in the early eighties.
As always, the support races bring out historic cars which included the beautiful Ronnie Peterson Lotus 76 JPS (above).
Below are three generations of Marborough, Marlborough-Mclaren, Mclaren-Mercedes cars from 1973, 1982 and 2012 respectively. I'm not sure it's strictly correct to group these three cars together, but it does show the evolution of styles from the early 1970's.
A couple of weeks ago my wife informed me that my calendar was still on the February page. Although not normally one to worry about small life details like this, it did bring about a small rearrangement of detritus around my computer. Mainly putting pens away.
But I did have a crack at sorting out my office pinboard. After peeling away layers of post it notes with computer passwords, obsolete account details and phone numbers, the tidy-up revealed a Grand Prix pass from 1985. Scarily, this may well have been there for 26 years. Not sure if it's a record, but it's surely worth a shout.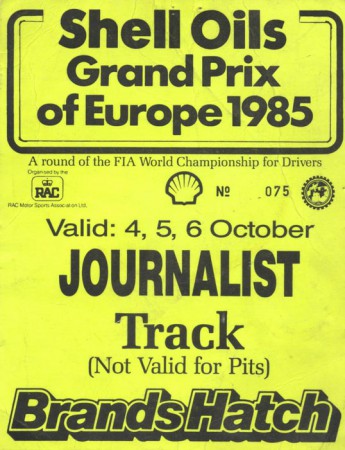 I never saw the race on TV, so I had a quick search to see if I could find any footage – and found this yesterday:
http://news.bbc.co.uk/sport1/hi/motorsport/formula_one/8703637.stm
The 1985 European Grand Prix at Brands Hatch was the first race I attended, and, from memory, was my first freelance car shoot. And as the rooky snapper, I was told to stand at the end of the main straight to record the start. With hindsight, it's probably the last place you want to be – hence me being told to stand there. If an accident is going to happen, that's where it will be. I nevertheless did as I was told – and was scared witless. Nothing actually happened, but I remember being hit by a wall of heat and showered with tyre rubber. On the fear factor stakes, it's up there with being buzzed by a Spitfire, lying down at a track in front of Tiff Needell doing 207mph in a Maclaren and getting married.
The race saw Brummy Nigel Mansell take his first checkered flag, making it a landmark race for petrolheads. It was also memorable as for me as Ayrton Senna was racing, with him starting on pole. Alain Prost secured the 1985 F1 World Championship by finishing in fourth position.
The footage is worth watching just to hear some of the old names in the commentary, with James Hunt and Murray Walker. Scroll through to about four minutes to see the start. You can see the snappers behind the tyre wall in the second camera position. Then scroll through to 15 minutes to hear the great commentary by Mr Walker, describing Michele Alboreto's Ferrari lapping, then entering the pit lane in flames. It's also interesting to see the pit crews, who are wearing nothing more fireproof than a T-shirt, and look as if they've just had their tea break interrupted.
The support races are always worth a look. Often with slightly less experienced drivers, the action can be quite dramatic. I was talking to a group of marshalls the day before, watching a Renault Alpine race, when I was suddenly aware that they were no longer standing next to me. Not only were they not there, they had jumped into a dip in the ground, and were screaming at me, to get f*** out of it. A car was running wide, and it took off, ploughing into the tyre barrier next to me. One very early lesson – if the marshalls run, so do you. The photos are full frame so it was closer than one would have liked. No idea who this unfortunate fellow was, but he emerged unscathed, with only a dented ego – and possibly without a contract the following season!