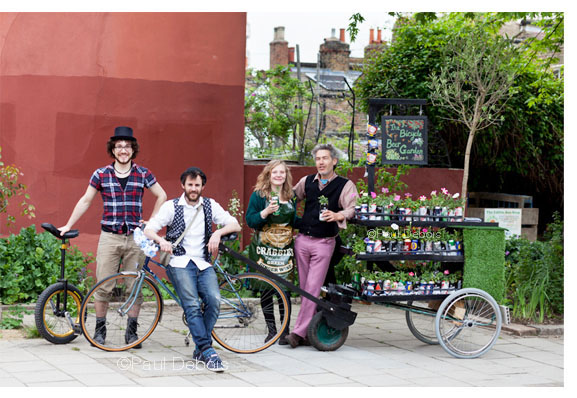 A gallery of photographs from my tour of Chelsea Fringe Gardens. The Fringe, in its inaugural year, is a new garden festival, directed journalist and author, Tim Richardson.
From their website :
"The Chelsea Fringe festival is a brand new initiative, entirely volunteer-run in its first year. It's all about harnessing and spreading some of the excitement and energy that fizzes around gardens and gardening. The idea is to give people the freedom and opportunity to express themselves through the medium of plants and gardens, to open up possibilities and to allow full participation.  Entirely independent of the RHS Chelsea Flower Show (though acting with its support), the Fringe will explode out of the showground geographically, demographically and conceptually. It will range from grassroots community garden projects to avant-garde art installations. Our open-access principle means that just about anything goes – as long as it's interesting and on the subject of gardens, flowers, veg-growing or landscape".
Tony Heywood & Alison Condie's underground landscape installation 
I went to a Remembrance Day service this morning. It was a shame that a local resident decided 11am was an appropriate time to start manoeuvring a car next to the memorial. Couldn't even wait a couple of minutes. It made me think about some of the sites I'd visited over the last 18 months – Thiepval, Fromelles and Delville Wood. Amazing places to see, though very sad.
I've been to the Olympic Park a couple of times recently, photographing some the grounds and landscaping set out by Nigel Dunnett. After one of these visits, I was allowed to stroll through the stadium itself. I just wonder if the red notice is a warning to Mr Rooney! It was interesting to see though. The football pitch seemed dwarfed by the bank of seats, and without the track in place, looked no bigger than a tennis court!
The concept of ecocide, or crimes against the planet,  has been brought into the consciousness of many people by the barrister and author, Polly Higgins. She has been campaigning for several years, negotiating with the UN, and governments around the world, asking for ecocide  to be adopted as the 5th crime against peace. Her book, 'Eradicating Ecocide', highlights the problems and why it is necessary for large corporations be environmentally responsible and accountable for their actions.
On Friday a mock trial was held at the Supreme Court in London, where the proposed new law was tested. Two company CEO's (played by actors) were put on 'trial' using evidence from real events. Standard court procedures were used with Michael Mansfield QC leading the prosecution team and Christopher Parker QC leading the defence.
Each member of the jury was sworn in and real expert witnesses were called to give evidence too. In reality, a trial such as this would last several months, so the time constraints of a day could only give a very brief insight in what would really happen. But the message was clear – there is an appetite for such a law.
And the verdict – guilty.
After the success of the flower photography course Jason Ingram and I ran last May with the Royal Photographic Society, the follow up was held last weekend. This time it was for two days,  with detailed assessments and plenty of time for practical experience in the beautiful gardens at Mill Dene, in the Cotswolds.
Again we had a full house with 10 students who all appeared to enjoy themselves, despite the fact that at 6am the expected beautiful morning light was, in fact, rain! Plan B came into play and a daylight studio session was held instead.
Our next planned course will be a one day event at Batsford Arboretum on 30th October 2011, photographing the beautiful Autumn colour in the extensive grounds.
This year I have been lucky enough to have a single image selected in the final of the IGPOTY competition and have a portfolio commended. The exhibition will be on show at Kew Gardens from May 14th.
The single image is a portrait of a gardening team in the WW1 cemetery at Le Trou Aide Poste, near Lille, Northern France. This photograph is based on an image, taken around 1920, of a team of War Graves Commission gardeners. It is part of a story on the Fromelles Cemetery near Lille, opened in 2010 for the reburial of British and Australian WW1 soldiers, whose bodies were discovered in a mass grave in 2008. The gardeners still work in teams, and move around various cemeteries in a particular region. Many are second or third generation, and are related to the original gardeners, many of whom fought in WW1. Kneeling on the right is Jean-Pierre (Jimmy) Macdonald whose British grandfather fought in the war and who settled in France in the employ of the War Graves Commission. For more information and images see www.pauldebois.com and look at the Fromelles gallery.
The Polaroid SX-70 portfolio was based on a photograph I took at Kew Gardens in 1982 as a photography student. Using the same camera, along with newly-released film I returned with the aim of capturing the atmosphere of this building, creating a 'retro' feel, with soft, almost monochromatic images. Polaroid SX-70 film was discontinued many years ago, but new film has been released, made by a company who bought what was left of the original Polaroid factory. This film has its own peculiar characteristics, but like the original Polaroid, produces very soft images – optically and tonally. The Palm House has lots of shade and I had to think in terms of black & white as the film could not render colour very well in these conditions. The photographs are not intended as literal portraits in the conventional sense.
The full size images can be seen in the previous posting 'Shake it like a Polaroid picture'.
One of the unusual jobs I did last year was to produce three photo montages for SAGA, illustrating parks that had been restored using lottery grant money. Actually it was one of those jobs that was great fun to do because the brief was very open. I had free range over the interpretation, providing each image was identifiable with each of the respective sites. A rarity! The parks in question were Myatt's Field in Lambeth, London, Catton Park near Norwich, and Sandall Park near Doncaster.
Due to the hot weather in early July 2010, the time scale for shooting was short.  Grass was burning up and flower displays were quickly going over. So immediately after the press day of the Hampton Court Flower Show, I headed up to Norwich at the start of a long three day circular journey.
The ambient lighting or weather conditions are the same in any montage I have made – stable! It can be overcast, rainy or sunny. I don't care. Anything but changeable. Ideally you want the same lighting from the first frame to the last, otherwise it makes it very difficult to join the images together once working on the computer. I now always shoot this type of image with a digital camera. The first ones I made whilst at college in the early 1980's were obviously on film and were much smaller scale – they were rarely more than 20-30 individual photographs arranged together. The ones I now produce can have anything from 200 up to 600 individual frames. With this number, you have to have similar contrast and colour balance.
Even with 600 images, speed is still needed. The basic set will be produced in around 60 minutes, with maybe additional key shots taken immediately afterwards. I never use a tripod, as I'm not trying to get a symmetrical line of frames for a seamless join. Actually, human error is a key part. One small aberration at the left of the frame will have a knock on effect on the right and vice versa. But this is part of the adventure. It creates distortions – and the fact that the angle of views are often 240 degrees to 360 degrees,  perspectives are deliberately false.
Underneath each image is a link which will reveal an animation in a new window, showing the construction of the photograph, from the first frame to last.
Myatt's Fields – click to view animation
Catton Park – click to view animation
Sandall Park – click to view animation
My first montages were made from SX-70 Polaroids. They were slightly easier to join up as the prints were produced instantly and you knew immediately whether you needed to shoot more frames to complete the set. The following are made up from only four shots each.
With these images, I scratched the surface with sand paper as an experiment to reduce the gloss finish. I even remember setting fire to some to see what distortion effects I could achieve. Not normal practice, and I remember as a sheepish 19 year old trying to explain what the burning smell was to my mother. For those who are curious, they smell like  burning car tyres!
The following sequence is from more recent work.
Kew Montage 2 was in the New Views Exhibition at Kew Gardens in 2004. Trafalgar Square and M40 Junction 6 appeared in the Garden Photographer of the year exhibitions in 2007 and 2008 respectively.
The parks images can be seen in the March issue of SAGA Magazine.
Just a quick note on a couple of things worth looking at. The first is a clip from a WTTW broadcast on American TV called Chicago Tonight. It details the discovery of a collection of street photographs taken by a nanny named Vivian Maier, who worked in New York from the 1950's through to the early 1990's. The collection amounts to an estimated 100,000 negatives, and could be one of the most important photographic discoveries for many years. The work is largely unknown – even her employers through the years didn't really appreciate what she was doing. But it is a fascinating document of street scenes and people in New York during the middle of the twentieth century.
The photographs were discovered by John Maloof at an auction in Chicago 2007, who bought just one of the lots offered for sale. When he discovered the quality of the work, he traced the other auction buyers, and bought their collections too. There are even boxes of unprocessed film, which is slowly being developed. He is currently working through the negatives, a monumental scanning task that could take many years. Ultimately the collection could prove to be worth a significant amount of money, and there are plans for exhibitions at the moment in the USA.
It brings up the oft quoted discussion of film versus digital – will it be possible in 50 years time to discover a box full of hard drives in an attic and still find that the technology works well enough to fire up and retrieve the data? In reality, it is probable with the absolute mass of material being produced digitally now, that discoveries will be made in the dusty corners of networking sites like Flickr or their successors – these organizations are less likely to delete data now that storage has become so cheap. With 'Digital Clouds' too, offsite storage will replace the general use of hard-drives. So will 'discoveries' become more common? And then what happens to copyright? Another argument!
The programme has been posted on YouTube, and gives a good account of something many photographers and collectors would dream about!

You can see some of the stills in this video:
The other thing worth a view is probably less significant, but nevertheless, still fascinating. The British Council is making 13 archive films from its collection publicly available for the first time. Some can be seen on Vimeo and one in particular comes to mind. The World Garden (1941) is a Technicolor film of Kew Gardens made during World War Two. Largely a morale boosting film, it takes you round the gardens and looks at the work of the people and it has a beautiful colour, reminiscent of the slightly saturated botanical books printed in the 1950's and 1960's. Thanks to my colleague, Sally Nex, for pointing this out on her BBC blog.
>
Also, have a look at The Life of the Rabbit – a wildlife film from simpler times!