Nice to have another feature in the excellent online journal The Garden Edit​. From a series of photographs taken between 2011- 2014 of the Elephant and Castle Urban Forest​ which is now being redeveloped:
The full journal article can be viewed here:
A selection of work taken recently for the RHS at Wisley.
From a shoot on business women in You Magazine on 16th August 2015. On a large feature, several thousand shots often need editing down to half a dozen or so. This means overlooking many equally good images. So, a small selection of out-takes.  The first, a quick shot as I was packing my kit away.
Two more from the same series:
Organic garden and compost course at the Chelsea Physic Garden.
A shoot for SAGA Magazine, Foamlea Gardens, Mortehoe in Devon. A brief visit.
I have been asked to write about my favourite photograph in conjunction with a talk in early September. This must be one of the most difficult editing processes for a photographer. The decision will change on a daily basis, depending on current projects, work and new ideas that have found space in a notebook. I think the closest I can ever get is one of my favourites. So a few thoughts.
Pinhole Impressions 3 was taken in the winter of 2007. It was part of a series included in the International Garden Photographer of the Year competition in 2008, which was awarded second place in the portfolio category. As this was the inaugural IGPOTY competition, I still have fond memories of taking the photographs and the process leading to the awards.
I always get asked two questions when this image is on display. The first is, "how long did it take in Photoshop to blur the clouds?". The second is, "how long did it take to sweep the leaves into a perfect circle?". The answer to both questions is no time at all. With any location photography there is always a certain element of luck. And with experience, you create your own luck. You can't always predict what will happen, but you know something special will. So you wait.
Gale force winds hit RHS Wisley on this particular day. I was experimenting with Zero 2000 pinhole camera and was about to give up, as the wind was buffeting the camera and tripod. With exposure times of 10 to 15 seconds, this was a problem. But the movement of the clouds grabbed my attention, and I knew there was a chance of capturing something interesting.
When I set the camera up, the tree was covered in leaves, but with the severity of the wind, it was stripped in 20 minutes. Instant 'Land Art' in the style of Andy Goldsworthy, but completely natural. As I was shooting film, I had no idea how good (or bad) the image might be, but I had a gut feeling something had happened. In the space of around 90 minutes, I took 5 rolls of film at other locations around Wisley, and this formed a large part the 'Pinhole Impressions' series. It's rare that you have this kind of luck.
A couple of weeks ago my wife informed me that my calendar was still on the February page. Although not normally one to worry about small life details like this, it did bring about a small rearrangement of detritus around my computer. Mainly putting pens away.
But I did have a crack at sorting out my office pinboard. After peeling away layers of post it notes with computer passwords, obsolete account details and phone numbers, the tidy-up revealed a Grand Prix pass from 1985. Scarily, this may well have been there for 26 years. Not sure if it's a record, but it's surely worth a shout.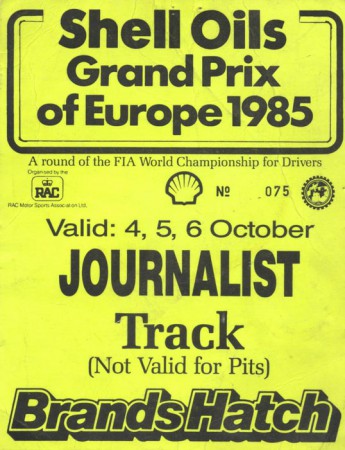 I never saw the race on TV, so I had a quick search to see if I could find any footage – and found this yesterday:
http://news.bbc.co.uk/sport1/hi/motorsport/formula_one/8703637.stm
The 1985 European Grand Prix at Brands Hatch was the first race I attended, and, from memory, was my first freelance car shoot. And as the rooky snapper, I was told to stand at the end of the main straight to record the start. With hindsight, it's probably the last place you want to be – hence me being told to stand there. If an accident is going to happen, that's where it will be. I nevertheless did as I was told – and was scared witless. Nothing actually happened, but I remember being hit by a wall of heat and showered with tyre rubber. On the fear factor stakes, it's up there with being buzzed by a Spitfire, lying down at a track in front of Tiff Needell doing 207mph in a Maclaren and getting married.
The race saw Brummy Nigel Mansell take his first checkered flag, making it a landmark race for petrolheads. It was also memorable as for me as Ayrton Senna was racing, with him starting on pole. Alain Prost secured the 1985 F1 World Championship by finishing in fourth position.
The footage is worth watching just to hear some of the old names in the commentary, with James Hunt and Murray Walker. Scroll through to about four minutes to see the start. You can see the snappers behind the tyre wall in the second camera position. Then scroll through to 15 minutes to hear the great commentary by Mr Walker, describing Michele Alboreto's Ferrari lapping, then entering the pit lane in flames. It's also interesting to see the pit crews, who are wearing nothing more fireproof than a T-shirt, and look as if they've just had their tea break interrupted.
The support races are always worth a look. Often with slightly less experienced drivers, the action can be quite dramatic. I was talking to a group of marshalls the day before, watching a Renault Alpine race, when I was suddenly aware that they were no longer standing next to me. Not only were they not there, they had jumped into a dip in the ground, and were screaming at me, to get f*** out of it. A car was running wide, and it took off, ploughing into the tyre barrier next to me. One very early lesson – if the marshalls run, so do you. The photos are full frame so it was closer than one would have liked. No idea who this unfortunate fellow was, but he emerged unscathed, with only a dented ego – and possibly without a contract the following season!
One of the unusual jobs I did last year was to produce three photo montages for SAGA, illustrating parks that had been restored using lottery grant money. Actually it was one of those jobs that was great fun to do because the brief was very open. I had free range over the interpretation, providing each image was identifiable with each of the respective sites. A rarity! The parks in question were Myatt's Field in Lambeth, London, Catton Park near Norwich, and Sandall Park near Doncaster.
Due to the hot weather in early July 2010, the time scale for shooting was short.  Grass was burning up and flower displays were quickly going over. So immediately after the press day of the Hampton Court Flower Show, I headed up to Norwich at the start of a long three day circular journey.
The ambient lighting or weather conditions are the same in any montage I have made – stable! It can be overcast, rainy or sunny. I don't care. Anything but changeable. Ideally you want the same lighting from the first frame to the last, otherwise it makes it very difficult to join the images together once working on the computer. I now always shoot this type of image with a digital camera. The first ones I made whilst at college in the early 1980's were obviously on film and were much smaller scale – they were rarely more than 20-30 individual photographs arranged together. The ones I now produce can have anything from 200 up to 600 individual frames. With this number, you have to have similar contrast and colour balance.
Even with 600 images, speed is still needed. The basic set will be produced in around 60 minutes, with maybe additional key shots taken immediately afterwards. I never use a tripod, as I'm not trying to get a symmetrical line of frames for a seamless join. Actually, human error is a key part. One small aberration at the left of the frame will have a knock on effect on the right and vice versa. But this is part of the adventure. It creates distortions – and the fact that the angle of views are often 240 degrees to 360 degrees,  perspectives are deliberately false.
Underneath each image is a link which will reveal an animation in a new window, showing the construction of the photograph, from the first frame to last.
Myatt's Fields – click to view animation
Catton Park – click to view animation
Sandall Park – click to view animation
My first montages were made from SX-70 Polaroids. They were slightly easier to join up as the prints were produced instantly and you knew immediately whether you needed to shoot more frames to complete the set. The following are made up from only four shots each.
With these images, I scratched the surface with sand paper as an experiment to reduce the gloss finish. I even remember setting fire to some to see what distortion effects I could achieve. Not normal practice, and I remember as a sheepish 19 year old trying to explain what the burning smell was to my mother. For those who are curious, they smell like  burning car tyres!
The following sequence is from more recent work.
Kew Montage 2 was in the New Views Exhibition at Kew Gardens in 2004. Trafalgar Square and M40 Junction 6 appeared in the Garden Photographer of the year exhibitions in 2007 and 2008 respectively.
The parks images can be seen in the March issue of SAGA Magazine.
Last night I watched the actor Martin Shaw retracing the route of the dambusters and taking a flight in one of the last two flying Lancaster Bombers. In doing so he achieved a childhood ambition. As flying has never been been my favourite pastime, he's welcome to it!  But I've always been interested in that period of history, and love to see these aircraft in the air.
The programme reminded me of a shoot I did for Top Gear, where a Honda Integra Type R was buzzed by a Spitfire. The car was photographed with several record breaking modes of transport – the Mallard train, the Stena HSS ferry, and a racing truck – and the Spitfire happened to be one of these.
This is probably one of the scariest shoots I've done – not least because I was expected to get the shot in one run as the Spitfire was very expensive to hire. I think it was around £700 for one fly-past. This was a discounted price too, as it was returning from an airshow in Weymouth.
It took place at RAF Duxford in Cambridgeshire, where the car was parked in the middle of the runway. Using a long lens, I followed the plane pretty much as a gunner would have done in trying to shoot it down. It must have taken place in seconds, though the plane seemed to take an age to cover the last few hundred metres.  The noise of the engine was fantastic, and I admit I ducked as it flew overhead! But I was fairly confident I had at least a couple of useable frames.
At that point the pilot radioed down and said, "That was great fun – do you want to do it again?"  Silly question really!
After the plane landed we asked the pilot how high it was as it flew over the car. He said around 15 feet. As I was looking down, I can't vouch for this – all I know is that it was pretty bloody close! Apparently as the plane was only travelling at around 120mph, he couldn't get any lower. I didn't challenge his reasoning.