Strange how with the passage of time you start to look back with rose tinted spectacles. Three times over the last week I have had conversations about missing the routine of hanging round a film lab after a shoot. For me it was pretty much a daily occurrence, though at the time, I saw it as a real inconvenience.
The last E6 film I had processed was on 21st December 2004. I remember the shoot vividly. A freezing cold day at the Top Gear test track at Dunsfold. Forward 24 hours and a phone call from my lab… "There's a problem with your action shots".  "Are they a bit dark?" I asked. "No, only about four shots have come out on each roll".
I immediately left the Christmas party I was at and headed to the lab in Richmond. Three rolls of film were on the lightbox. Most frames had just half a car. Shutter failure.  My trusty 14 year old EOS 1 had finally given up. The final straw. Digital beckoned.
Even Steve the E6 manager, who was part magician, part agony aunt, couldn't help. He was usually there to reassure me with a cup of coffee. "Push that half a stop and it will be fine," he would say. And he would be right. I frequently ran clip tests – a couple of frames cut off and processed for assessment before running and correcting the remainder of a roll. (See below). Not even he could work his magic this time.
Luckily there were enough useable photographs to salvage the job, which required action images to run over a DPS. More fortunately,  I had used another camera for the rest of the shoot, so nothing else was effected.
Rose tinted spectacles? I went back into a pro lab for the first time for many years last summer. The slightly sweet smell of the warm chemistry, combined with filter coffee did bring back some fond memories. I suppose the time spent at a lab was a debrief session, where you caught up and gossiped with other snappers. This still happens, but in isolation, like much communication now, via  email or Twitter. So would I really turn the clock back? No. For a lot of things, digital is too good.
Last Wednesday I was invited by BBC Gardeners' World to an end of term bash at the Garden Media Guild Awards. All very nice, and I was a finalist in the awards too, with a portfolio of eight images published over the  last 12 months.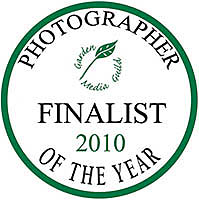 Along with the award ceremony, which was held at the Brewery in Chiswell Street, there was a three course meal. This included a desert that baffled James Alexander Sinclair, who happened to be sitting at the same table. I hadn't heard of a Blackberry Tendance either.
I wouldn't normally go on about a lunch, but I was quite curious about the goody bag that one often gets presented with at large events. As a car photographer I  was lucky enough to travel all over Europe, the US and  Japan, where you would frequently be presented with mementos relating to a particular country – wine, pens, model cars, books and T-shirts to name but a few. But never an axe! It's a very fine axe too. I sat on the tube rehearsing my statement to the police all the way home!
As noted in the post on 30th August, Kodachrome processing finally ceases on 30th December 2010. To celebrate the end of an era, the Association of Photographers are staging an exhibition of work by AOP members taken on this classic film. I heard this week that two of my images have been selected.
The exhibition runs from 18th January to 10th February 2011. More information, along with travel details, will be available on the AOP website, though as I write, the announcement has not been published.
I visited the Morgan factory in Malvern this week. I've never been there before, and it was quite refreshing to be able to walk around a car workshop without being asked to produce  a multitude of passes. A nod from MD, Charles Morgan, was all that was required.
My colleague Peter Nunn came to interview Charles Morgan for a feature – and with the outside hope of driving the new Morgan three wheeler. As this doesn't appear until next year, the best we could do was have a look at the three wheeler pedal car. With a price tag of £3000, it's a luxury Christmas present for all small petrolheads. Really serious ones. Actually, I don't think my old SAAB was much more than this.
Instead we had a drive in the Morgan Aero SuperSports, a more than quick 4.8 litre, V8 engined, two seater. At £120,000, this is for serious adult petrolheads. Although not to my taste, it was fun driving around the Malvern Hills for a few hours.  It was a bit difficult to get in or out and I doubt the Lucie Clayton School of Etiquette would have had an answer for ladies, but it certainly turned a few heads.
Sir John Harvey-Jones in the BBC TV programme 'Troubleshooter' was aghast at seeing what he saw  as  old fashioned work practices in the Morgan factory. Fortunately Peter Morgan, Charles' father, more or less ignored the advice given – so things are pretty much the same. The old Plus 4 bodies are still being produced, largely with wooden frames made from Ash, making it seem like a hand-crafted furniture workshop. Long may it continue.
Last night I watched the actor Martin Shaw retracing the route of the dambusters and taking a flight in one of the last two flying Lancaster Bombers. In doing so he achieved a childhood ambition. As flying has never been been my favourite pastime, he's welcome to it!  But I've always been interested in that period of history, and love to see these aircraft in the air.
The programme reminded me of a shoot I did for Top Gear, where a Honda Integra Type R was buzzed by a Spitfire. The car was photographed with several record breaking modes of transport – the Mallard train, the Stena HSS ferry, and a racing truck – and the Spitfire happened to be one of these.
This is probably one of the scariest shoots I've done – not least because I was expected to get the shot in one run as the Spitfire was very expensive to hire. I think it was around £700 for one fly-past. This was a discounted price too, as it was returning from an airshow in Weymouth.
It took place at RAF Duxford in Cambridgeshire, where the car was parked in the middle of the runway. Using a long lens, I followed the plane pretty much as a gunner would have done in trying to shoot it down. It must have taken place in seconds, though the plane seemed to take an age to cover the last few hundred metres.  The noise of the engine was fantastic, and I admit I ducked as it flew overhead! But I was fairly confident I had at least a couple of useable frames.
At that point the pilot radioed down and said, "That was great fun – do you want to do it again?"  Silly question really!
After the plane landed we asked the pilot how high it was as it flew over the car. He said around 15 feet. As I was looking down, I can't vouch for this – all I know is that it was pretty bloody close! Apparently as the plane was only travelling at around 120mph, he couldn't get any lower. I didn't challenge his reasoning.
A couple of weeks ago I was handed a copy of Car Photo by my friend and colleague Ian Dawson. A supplement to Car Magazine in 1985,  it was the benchmark of automotive photography at that  time, and certainly influenced the way I worked. As a rooky photographer on What Car? Magazine, with barely three months under my belt, I remember flicking through a copy in my local WH Smith and thinking bloody hell!
Ian was one of the contributing photographers and he kindly searched out his last spare copy, as mine had disappeared after several house moves. What is great about this magazine is that the photographs could easily be published today in any car title – the only thing that gives them away is the style of the car. Unfortunately for Ian, as I unkindly reminded him,  the new cars of 1985 are now classics and could probably slip into the pages of Classic and Sportscar in 2010.
The contributing photographers were: Colin Curwood, Richard Davies, Ian Dawson, Dougie Firth, Mervyn Franklyn,  Martyn Goddard, Graham Harrison and John Mason. The Art Director was Adam Stinson. Some still work with cars and some have moved on. For any car enthusiast seeing a copy for sale on Ebay or wherever, do buy it – it's well worth a read.
The Lotus Esprit shot above was one of the most important for me, despite it being one of the simplest in the magazine. It made me  realize I had to persuade the editor of my magazine that driving 20 minutes down the M3 to a location at a test track near Chobham,  Surrey, would no longer do. Another favourite is the Citroën Visa pictured below – not a particularly exciting car, just a great photo! Both were taken on Kodachrome 64 (see the posting on the demise of Kodachrome).
The last shot is by Richard Davies – a Ferrari 250 GTO. The caption made me laugh when I saw it again –  'Two useable frames out of 108 exposures shot.' I remember thinking at the time that shooting 108 frames to fill one page in a magazine was the height of extravagance. But with hindsight, three rolls of Kodachrome seems modest. Once  I was regularly involved in cover shoots  or big group tests requiring lots of action, I would think nothing of shooting four or five times this amount!
As an aside, I thought I'd mention a personal project that Richard  has been involved in for several years. He has been photographing  Russian wooden churches in the bleak north of the country,  documenting the efforts to save and restore these important buildings. A world away from Ferrari's but well worth a look!
My colleague Jason Ingram recently posted a few photographs on his blog, illustrating the use of his iPhone with an App called the Hipstamatic. This made me curious. Although I have owned several mobile phones with  built in cameras, I had never used them to take photographs. As I nearly always carry a bag full of professional kit, the photographic capabilities of a mobile phone have always been excess to requirements. That is until recently, after I finally succumbed to fashion and bought an iPhone!
On a  family outing to A Garden Party To Make A Difference, staged at three of the grand Royal residences along the Mall in London a few weeks ago, the use of a humble point and shoot camera became essential. The terms and conditions of entry to the event clearly stated that professional equipment, defined as SLR's with interchangeable lenses, were prohibited – along with weapons, illegal substances and err……..tables and chairs! Enter the iPhone!
The offering from Apple  is actually quite a capable device – obviously a long way off the normal equipment I use, but nevertheless fun to use for snaps. So, here is another selection taken in Brighton:
The final two shots were taken in Walthamstow,  London, whilst taking a stroll around the  E17 Art Trail.
Conclusion –  I'll definitely use it again. The only problem I had was with the size. I'm used to using large cameras – and everything on the iPhone seems miniscule in comparison. Be prepared for lots of fingers in front of the lens! And could it be used on a normal job? No!
I've recently been reading postings on forums regarding the demise of Kodachrome, a film which has been used by generations of photographers, amateurs and pros alike.  Introduced in 1935, it was available in various forms until 2009, when Kodak announced it would cease production due to a fall in demand. If you are one of the few who have any rolls left, remember you have until 30th December 2010 to get it to Dwayne's Photos in Parsons, Kansas, the last place still processing this film, when even they will stop.
I shot my first rolls of Kodachrome in 1979 and was amazed at the saturated colour which could be achieved compared to contemporary offerings, such as Ektachrome 64, also from the Kodak stable. At that time, most of my professional work was in black and white and I don't remember using it for commercial photography until 1988, when I started to contribute to Car Magazine.
Car was the leading automotive magazine of the period, and under the art direction of Adam Stinson, it produced some of the most innovative car photography in Europe and the USA, influencing many magazines worldwide. Adam favoured Kodachrome, so when I was invited to start shooting for Car, I spent many an hour negotiating the Fulham Palace Road during the London rush hour, trying to get to the Kodachrome collection/delivery point in time to meet the evening deadline. At that time, barmy as it may seem, film shot in the UK could only be processed in Paris. I think it was a 24 hour turnaround, and it was always an event opening each of the returned boxes and spreading the frames, in their classic card mounts, over the lightbox.
Ultimately, for me and I suspect for many others, this impractical method of processing was the beginning of Kodachrome's downfall. As a new generation of films emerged around 1990 which provided equally great colour rendition and saturation, practical alternatives were established. For many Fuji Velvia, still in production today, became the alternative of choice. It was possible get this, and other E6 slide films, processed quickly and easily and in front of an art director in under two hours. Commercially it made sense to move away from Kodachrome – sadly, it no longer fitted into a lot of photographers' workflows. Then digital came of age!
The last time I used Kodachrome was around 1990, when  I was asked to shoot a series of car books. After the first book, I made several calls to the publisher asking to switch from Kodachrome. He saw the quality of the Velvia test rolls I had sent, and (reluctantly at first) agreed to let me shoot the remaining books on Fuji stock. To this day, I still think this was the right decision!
Despite it being something that I currently wouldn't have much use for, I'd love to see Kodachrome survive in some form, as it adds to the flavour and mix of the photographic world. Unfortunately the process is so complicated, I doubt it will be viable for anyone to try to take it over.
As a footnote, Polaroid pretty much finished instant film production a couple of years ago – but with the Impossible Project taking over what remained of the production plant, the concept of Polaroid instant film is still with us. (Fuji instant film has been in constant production for many years, but doesn't have the same following). Polaroid themselves have taken an about-turn and have produced a new camera and instant film, the Polaroid 300 – and have appointed Lady Gaga as their Creative Director, so there may well be hope for analogue devotees!
Whenever I speak to my mother on the phone, the conversation always drifts towards the perils of the weather, and the effects it has on photography. I think she still worries about me wearing a hat or that I remembered to take a flask of hot coffee with me! Unless it is sunny.
Then the comment is, "It must have been a great day for photography." But no!
Whether I'm shooting gardens, flowers or cars, fierce, bright sun and a cloudless blue sky is nearly always a nightmare. Finding natural shade at the top of a mountain pass to park a sports car covered in chrome is nearly impossible. And wide landscapes with trees casting dark shadows over beautifully designed borders makes you look to the sky in desperation for help. Not for divine intervention, but for cloud. Even a little one. A few seconds would do!
Any photographer working outside will spend hours waiting for the light to change – it's always too bright or too cloudy, much to the annoyance of whoever you are working with. On a recent  shoot for Gardeners' World, a photograph was taken of me working under a tent created with white cloth suspended on light stands – all to capture an area about a metre square. Midday sun is very difficult to work in – especially for a journalist when lunch is imminent!
I know I'm lucky to be able to work outside of an office environment. But that perfect gin and tonic weather, when all you want to do is sit in a deck chair and listen to Test Match Special on the radio, is often not much use to a snapper. Unless the offer is a G&T!
Just before Christmas I started editing the hundreds of car photographs I took between 1989 and 1997 for a series of books. All classic cars, ranging from Austin 7 'Chummys' through to rare Ferraris, it was interesting to see them again after they had been confined to a filing cabinet for many years.
During the process, I found images of my all time favourite car, the Citroën DS. One particular model was a 1964 Citroën ID 19 Safari,  captured in Yorkshire on a hillside, with a rainbow in the background. It had taken me 11 years to get this shot!
Spending much time searching isolated moor and coastal regions location hunting for car magazines, I was often battling against weather conditions not suited to any form of photography. During breaks in the weather, rainbows would often appear, but I was never in the right place at the right time to get a car positioned and cleaned before they vanished.
Until this particular shoot.  The job was scheduled for the next day and I hadn't planned to do any photography as the weather was so bad, but the owner of the car was quite keen to show me around the area to find a location for the following morning. As we drove along a ridge from which he claimed there was a dramatic view, he pulled over. The rain had stopped, and it was still quite grey with a lot of cloud, but it was nice to get a closer look at the car.
As we chatted the inevitable rainbow appeared! A manic car cleaning session  ensued, and  I managed to shoot about 20 frames before it disappeared. Done without any help from Photoshop,  it was a satisfying moment –  I knew that I had finally captured this illusive image!
As the weather cleared we continued to work with the car and we were rewarded with a spectacular sunset an hour or so later. It was one of those lucky occasions where a significant part of a shoot had been completed in a couple of hours.
The last photograph is an indulgence, which I had to slip in! It is a Citroën DS23 Cabriolet which belonged to the late MP, Mr Alan Clark . Custom built by Henri Chapron on a 1973 DS23 saloon chassis in 1978, it is for me the ultimate Citroën DS! He even took me for a drive when I photographed the car at his home, Saltwood Castle,  in 1996 – with the roof down of course!
The photographs  were taken for  the book 'The Original Citroën DS' by John Reynolds.For more information on the whole series see Motorbooks, who took over from the commissioning publisher, Bay View Books, (now Herridge and Sons Ltd) and also Amazon, as several have been reprinted. The photographs will be available from the picture library Alamy and are currently being uploaded in batches as the original 6×7 transparencies are scanned.