A couple of weeks ago my wife informed me that my calendar was still on the February page. Although not normally one to worry about small life details like this, it did bring about a small rearrangement of detritus around my computer. Mainly putting pens away.
But I did have a crack at sorting out my office pinboard. After peeling away layers of post it notes with computer passwords, obsolete account details and phone numbers, the tidy-up revealed a Grand Prix pass from 1985. Scarily, this may well have been there for 26 years. Not sure if it's a record, but it's surely worth a shout.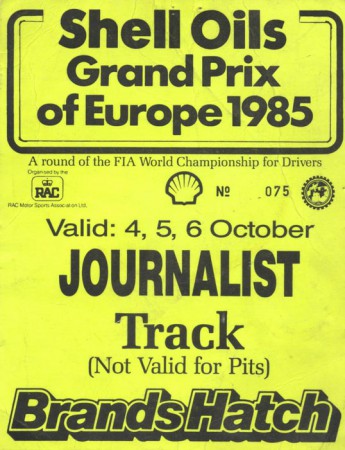 I never saw the race on TV, so I had a quick search to see if I could find any footage – and found this yesterday:
http://news.bbc.co.uk/sport1/hi/motorsport/formula_one/8703637.stm
The 1985 European Grand Prix at Brands Hatch was the first race I attended, and, from memory, was my first freelance car shoot. And as the rooky snapper, I was told to stand at the end of the main straight to record the start. With hindsight, it's probably the last place you want to be – hence me being told to stand there. If an accident is going to happen, that's where it will be. I nevertheless did as I was told – and was scared witless. Nothing actually happened, but I remember being hit by a wall of heat and showered with tyre rubber. On the fear factor stakes, it's up there with being buzzed by a Spitfire, lying down at a track in front of Tiff Needell doing 207mph in a Maclaren and getting married.
The race saw Brummy Nigel Mansell take his first checkered flag, making it a landmark race for petrolheads. It was also memorable as for me as Ayrton Senna was racing, with him starting on pole. Alain Prost secured the 1985 F1 World Championship by finishing in fourth position.
The footage is worth watching just to hear some of the old names in the commentary, with James Hunt and Murray Walker. Scroll through to about four minutes to see the start. You can see the snappers behind the tyre wall in the second camera position. Then scroll through to 15 minutes to hear the great commentary by Mr Walker, describing Michele Alboreto's Ferrari lapping, then entering the pit lane in flames. It's also interesting to see the pit crews, who are wearing nothing more fireproof than a T-shirt, and look as if they've just had their tea break interrupted.
The support races are always worth a look. Often with slightly less experienced drivers, the action can be quite dramatic. I was talking to a group of marshalls the day before, watching a Renault Alpine race, when I was suddenly aware that they were no longer standing next to me. Not only were they not there, they had jumped into a dip in the ground, and were screaming at me, to get f*** out of it. A car was running wide, and it took off, ploughing into the tyre barrier next to me. One very early lesson – if the marshalls run, so do you. The photos are full frame so it was closer than one would have liked. No idea who this unfortunate fellow was, but he emerged unscathed, with only a dented ego – and possibly without a contract the following season!