Last Wednesday I was invited by BBC Gardeners' World to an end of term bash at the Garden Media Guild Awards. All very nice, and I was a finalist in the awards too, with a portfolio of eight images published over the  last 12 months.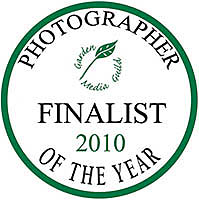 Along with the award ceremony, which was held at the Brewery in Chiswell Street, there was a three course meal. This included a desert that baffled James Alexander Sinclair, who happened to be sitting at the same table. I hadn't heard of a Blackberry Tendance either.
I wouldn't normally go on about a lunch, but I was quite curious about the goody bag that one often gets presented with at large events. As a car photographer I  was lucky enough to travel all over Europe, the US and  Japan, where you would frequently be presented with mementos relating to a particular country – wine, pens, model cars, books and T-shirts to name but a few. But never an axe! It's a very fine axe too. I sat on the tube rehearsing my statement to the police all the way home!
As noted in the post on 30th August, Kodachrome processing finally ceases on 30th December 2010. To celebrate the end of an era, the Association of Photographers are staging an exhibition of work by AOP members taken on this classic film. I heard this week that two of my images have been selected.
The exhibition runs from 18th January to 10th February 2011. More information, along with travel details, will be available on the AOP website, though as I write, the announcement has not been published.
Earlier this year, I was invited to submit an image to an exhibition called 'Away Pitch' at The Brewhouse Arts Centre in Burton on Trent. Curated by artist Vitor Azevedo, the exhibition combined art and poetry. Works were placed with local sports people, who recorded their reactions and responses to them in the form of books, photographs and recordings. The launch was held in July 2009 at The Brewhouse, and included a dance performance combining sportsmen and professional dancers, a youth community dance piece and the unveiling of the Pitch exhibition. Over 170 people attended the event that was well received and has since continued to bridge the gap between art and sport in a positive way.
One of my Pinhole Impressions Series, Tilia Tomentosa (Lime tree), was placed with Mick Grocott, a referee, who was photographed by Vitor. All works were accompanied by text by poet and playwright Kev Fegan.
Other sports people included Alison Williamson, an archer for Team-GB, Jenny Booth, Gold medal winner at Atlanta 1996 for Paralympic Swimming, sprinter Alex Nelson from Stoke on Trent, Keiran McAvoy, Newcastle under Lyme's Sports personality of the Year, BMX Four Cross Mountain bike rider and boxer Frazer Clarke from Burton Upon Trent.
Vitor is currently working on a book to accompany the exhibition, which will tour the region.
It's interesting to see the flack that David Cameron has had for appointing a personal photographer to track him. Andrew Parsons has been put onto the public payroll to produce PR work for the Conservative leader and other senior cabinet officials. At a time when photographers are being put under pressure with a combination of cost cuts and a make-do attitude with the glut of cheap, second-rate photographs available, the Conservative leader can still see a professional job requires a skilled professional. As in any field. A good point made by Alan Chun on the Epuk forum, it is a strong message to those who commission photography. If you buy cheap…….
Just a quick note to say that I will be exhibiting recent work at the Palace Art Fair, London, from 7th to 10th October 2010. Housed in the  splendid surroundings of Fulham Palace, and  arranged by the organizers of the Brighton Art Fair, it promises to be a great event.
I'm also excited that some of my work, the Pinhole Impressions series, along with 43 Gardeners' Hands, will be at the New York City Affordable Art Fair this weekend, represented by Will's Art Warehouse.
I've recently been reading postings on forums regarding the demise of Kodachrome, a film which has been used by generations of photographers, amateurs and pros alike.  Introduced in 1935, it was available in various forms until 2009, when Kodak announced it would cease production due to a fall in demand. If you are one of the few who have any rolls left, remember you have until 30th December 2010 to get it to Dwayne's Photos in Parsons, Kansas, the last place still processing this film, when even they will stop.
I shot my first rolls of Kodachrome in 1979 and was amazed at the saturated colour which could be achieved compared to contemporary offerings, such as Ektachrome 64, also from the Kodak stable. At that time, most of my professional work was in black and white and I don't remember using it for commercial photography until 1988, when I started to contribute to Car Magazine.
Car was the leading automotive magazine of the period, and under the art direction of Adam Stinson, it produced some of the most innovative car photography in Europe and the USA, influencing many magazines worldwide. Adam favoured Kodachrome, so when I was invited to start shooting for Car, I spent many an hour negotiating the Fulham Palace Road during the London rush hour, trying to get to the Kodachrome collection/delivery point in time to meet the evening deadline. At that time, barmy as it may seem, film shot in the UK could only be processed in Paris. I think it was a 24 hour turnaround, and it was always an event opening each of the returned boxes and spreading the frames, in their classic card mounts, over the lightbox.
Ultimately, for me and I suspect for many others, this impractical method of processing was the beginning of Kodachrome's downfall. As a new generation of films emerged around 1990 which provided equally great colour rendition and saturation, practical alternatives were established. For many Fuji Velvia, still in production today, became the alternative of choice. It was possible get this, and other E6 slide films, processed quickly and easily and in front of an art director in under two hours. Commercially it made sense to move away from Kodachrome – sadly, it no longer fitted into a lot of photographers' workflows. Then digital came of age!
The last time I used Kodachrome was around 1990, when  I was asked to shoot a series of car books. After the first book, I made several calls to the publisher asking to switch from Kodachrome. He saw the quality of the Velvia test rolls I had sent, and (reluctantly at first) agreed to let me shoot the remaining books on Fuji stock. To this day, I still think this was the right decision!
Despite it being something that I currently wouldn't have much use for, I'd love to see Kodachrome survive in some form, as it adds to the flavour and mix of the photographic world. Unfortunately the process is so complicated, I doubt it will be viable for anyone to try to take it over.
As a footnote, Polaroid pretty much finished instant film production a couple of years ago – but with the Impossible Project taking over what remained of the production plant, the concept of Polaroid instant film is still with us. (Fuji instant film has been in constant production for many years, but doesn't have the same following). Polaroid themselves have taken an about-turn and have produced a new camera and instant film, the Polaroid 300 – and have appointed Lady Gaga as their Creative Director, so there may well be hope for analogue devotees!
A quick update to the post in January, regarding Section 44 of the Terrorism Act 2000. The European Court of Human Rights has rejected the governments appeal against the ruling, which states S44 is in breach of Article 8 of the European Convention on Human Rights. There are still ways the police can stop photographers, should they choose to do so, but it is a step in the right direction.
For more information, see the I'm a Photographer, Not a Terrorist website.
To continue with the campaign, another gathering of photographers has been planned for Sunday 4th July at 12 noon, outside Scotland Yard.
For the last two years I have run various workshops on garden and flower photography, for both groups and individuals. On Sunday 2nd May this year, I teamed up with fellow Gardeners' World photographer Jason Ingram, to host a course at the Royal Photographic Society in Bath.
We wanted a friendly atmosphere, so kept the whole day very informal. We discussed the equipment we use, as well as sharing some of the tips and tricks used by garden photographers. In the afternoon we ran a practical session, using a still life, to demonstrate the maxim, "Keep it simple." With just a fabric background and a home made reflector, we shot the photos you see here. 
We also had a critique session, where we discussed the photographs brought to the course by the students. It was very interesting to see how Jason and I saw the images from different viewpoints and made different suggestions on how the work might be developed! 
The feedback we got suggested that everyone attending the workshop enjoyed themselves and felt they had gained valuable experience. As a result, we will be taking another course on 26th September.
"Clause 43 was dropped from the Bill yesterday. Following further reflection, the Government will aim to reintroduce measures along similar lines when an opportunity arises in the new Parliament." - Stephen Timms, then Parliamentary Under-Secretary, Department for Business, Innovation and Skills; Financial Secretary, HM Treasury –  [from a letter dated 8th April 2010]
A short update – the controversial clause 43 has been removed from the Digital Economy Bill described in the previous post. The problem has not gone though, so pressure still needs to be maintained. When a new Government is formed it could reappear.
For more information, see  www.stop43.org.uk