Just a quick note on a couple of things worth looking at. The first is a clip from a WTTW broadcast on American TV called Chicago Tonight. It details the discovery of a collection of street photographs taken by a nanny named Vivian Maier, who worked in New York from the 1950's through to the early 1990's. The collection amounts to an estimated 100,000 negatives, and could be one of the most important photographic discoveries for many years. The work is largely unknown – even her employers through the years didn't really appreciate what she was doing. But it is a fascinating document of street scenes and people in New York during the middle of the twentieth century.
The photographs were discovered by John Maloof at an auction in Chicago 2007, who bought just one of the lots offered for sale. When he discovered the quality of the work, he traced the other auction buyers, and bought their collections too. There are even boxes of unprocessed film, which is slowly being developed. He is currently working through the negatives, a monumental scanning task that could take many years. Ultimately the collection could prove to be worth a significant amount of money, and there are plans for exhibitions at the moment in the USA.
It brings up the oft quoted discussion of film versus digital – will it be possible in 50 years time to discover a box full of hard drives in an attic and still find that the technology works well enough to fire up and retrieve the data? In reality, it is probable with the absolute mass of material being produced digitally now, that discoveries will be made in the dusty corners of networking sites like Flickr or their successors – these organizations are less likely to delete data now that storage has become so cheap. With 'Digital Clouds' too, offsite storage will replace the general use of hard-drives. So will 'discoveries' become more common? And then what happens to copyright? Another argument!
The programme has been posted on YouTube, and gives a good account of something many photographers and collectors would dream about!

You can see some of the stills in this video:
The other thing worth a view is probably less significant, but nevertheless, still fascinating. The British Council is making 13 archive films from its collection publicly available for the first time. Some can be seen on Vimeo and one in particular comes to mind. The World Garden (1941) is a Technicolor film of Kew Gardens made during World War Two. Largely a morale boosting film, it takes you round the gardens and looks at the work of the people and it has a beautiful colour, reminiscent of the slightly saturated botanical books printed in the 1950's and 1960's. Thanks to my colleague, Sally Nex, for pointing this out on her BBC blog.
>
Also, have a look at The Life of the Rabbit – a wildlife film from simpler times!
Last Wednesday I was invited by BBC Gardeners' World to an end of term bash at the Garden Media Guild Awards. All very nice, and I was a finalist in the awards too, with a portfolio of eight images published over the  last 12 months.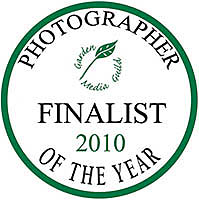 Along with the award ceremony, which was held at the Brewery in Chiswell Street, there was a three course meal. This included a desert that baffled James Alexander Sinclair, who happened to be sitting at the same table. I hadn't heard of a Blackberry Tendance either.
I wouldn't normally go on about a lunch, but I was quite curious about the goody bag that one often gets presented with at large events. As a car photographer I  was lucky enough to travel all over Europe, the US and  Japan, where you would frequently be presented with mementos relating to a particular country – wine, pens, model cars, books and T-shirts to name but a few. But never an axe! It's a very fine axe too. I sat on the tube rehearsing my statement to the police all the way home!
As noted in the post on 30th August, Kodachrome processing finally ceases on 30th December 2010. To celebrate the end of an era, the Association of Photographers are staging an exhibition of work by AOP members taken on this classic film. I heard this week that two of my images have been selected.
The exhibition runs from 18th January to 10th February 2011. More information, along with travel details, will be available on the AOP website, though as I write, the announcement has not been published.
There are two new exhibitions where I have photographs on display, both in London. The first, Shades of Winter, is a joint exhibition at Fulham Palace, with photographer Caroline Ames. I have 10 of the Pinhole Impressions series on display (see previous postings) and Caroline has 10 photographs of Fulham Palace, taken last winter. A large version of 43 Gardeners' Hands is also on display. This runs from 24th November 2010 to 27th February 2011. For more information and travel details, see the Fulham Palace website.
The second exhibition is the Red Dot charity auction at the Association of Photographers Gallery, where I have two images on display.  This is an annual event  where silent bidding starts at £40 for all prints. All profits from print sales will be donated to the charity Photovoice,  a multi-award winning charity based in London. Its mission is to bring about positive social change for marginalised communities, providing them with photographic training with which they can advocate, express themselves and generate income. You can view all images online, or see the images on display at the AOP gallery from 1st December 2010 to 13th January 2011 – Opening hours: Monday – Friday, 10am – 6pm. Visit the website for travel details.
I visited the Morgan factory in Malvern this week. I've never been there before, and it was quite refreshing to be able to walk around a car workshop without being asked to produce  a multitude of passes. A nod from MD, Charles Morgan, was all that was required.
My colleague Peter Nunn came to interview Charles Morgan for a feature – and with the outside hope of driving the new Morgan three wheeler. As this doesn't appear until next year, the best we could do was have a look at the three wheeler pedal car. With a price tag of £3000, it's a luxury Christmas present for all small petrolheads. Really serious ones. Actually, I don't think my old SAAB was much more than this.
Instead we had a drive in the Morgan Aero SuperSports, a more than quick 4.8 litre, V8 engined, two seater. At £120,000, this is for serious adult petrolheads. Although not to my taste, it was fun driving around the Malvern Hills for a few hours.  It was a bit difficult to get in or out and I doubt the Lucie Clayton School of Etiquette would have had an answer for ladies, but it certainly turned a few heads.
Sir John Harvey-Jones in the BBC TV programme 'Troubleshooter' was aghast at seeing what he saw  as  old fashioned work practices in the Morgan factory. Fortunately Peter Morgan, Charles' father, more or less ignored the advice given – so things are pretty much the same. The old Plus 4 bodies are still being produced, largely with wooden frames made from Ash, making it seem like a hand-crafted furniture workshop. Long may it continue.
Just over a week ago, I visited Batsford Arboretum, near Moreton in Marsh and the garden at Mill Dene. I had a  great drive through the Cotswolds on fantastic Autumn day, to see trees at  their best. What a difference a week makes. On a shoot at Capel Manor a few days later, I had to create a large plastic tent to shelter from the wind and rain whilst  photographing garden products. Then today, I photographed journalist Sally Nex at her allotment. Despite the best efforts of the various weather sites, we couldn't find a time slot to keep us dry. Even my camera had a fit of the vapours. I guess winter has arrived.
Actually this was Sally's last day at this particular plot. Not only did she put up with standing around in the rain for a portrait – she took down a greenhouse in under two hours (smashing just two panes of glass), loaded a van with  tons of gardening paraphernalia accumulated over six years  and even solved a dispute over jelly babies and Jaffa cakes. Now here's a woman who can multitask!
Despite frequent inclement weather, winter can actually be a great time to take photographs. The sudden weather changes offer many opportunities and trees and plants take on a new form. Unfortunately, commercial photography becomes difficult to plan. But this is far outweighed by the unexpected. I think the unexpected in this case was the fact that Sally kept smiling!
Earlier this year, I was invited to submit an image to an exhibition called 'Away Pitch' at The Brewhouse Arts Centre in Burton on Trent. Curated by artist Vitor Azevedo, the exhibition combined art and poetry. Works were placed with local sports people, who recorded their reactions and responses to them in the form of books, photographs and recordings. The launch was held in July 2009 at The Brewhouse, and included a dance performance combining sportsmen and professional dancers, a youth community dance piece and the unveiling of the Pitch exhibition. Over 170 people attended the event that was well received and has since continued to bridge the gap between art and sport in a positive way.
One of my Pinhole Impressions Series, Tilia Tomentosa (Lime tree), was placed with Mick Grocott, a referee, who was photographed by Vitor. All works were accompanied by text by poet and playwright Kev Fegan.
Other sports people included Alison Williamson, an archer for Team-GB, Jenny Booth, Gold medal winner at Atlanta 1996 for Paralympic Swimming, sprinter Alex Nelson from Stoke on Trent, Keiran McAvoy, Newcastle under Lyme's Sports personality of the Year, BMX Four Cross Mountain bike rider and boxer Frazer Clarke from Burton Upon Trent.
Vitor is currently working on a book to accompany the exhibition, which will tour the region.
It's interesting to see the flack that David Cameron has had for appointing a personal photographer to track him. Andrew Parsons has been put onto the public payroll to produce PR work for the Conservative leader and other senior cabinet officials. At a time when photographers are being put under pressure with a combination of cost cuts and a make-do attitude with the glut of cheap, second-rate photographs available, the Conservative leader can still see a professional job requires a skilled professional. As in any field. A good point made by Alan Chun on the Epuk forum, it is a strong message to those who commission photography. If you buy cheap…….